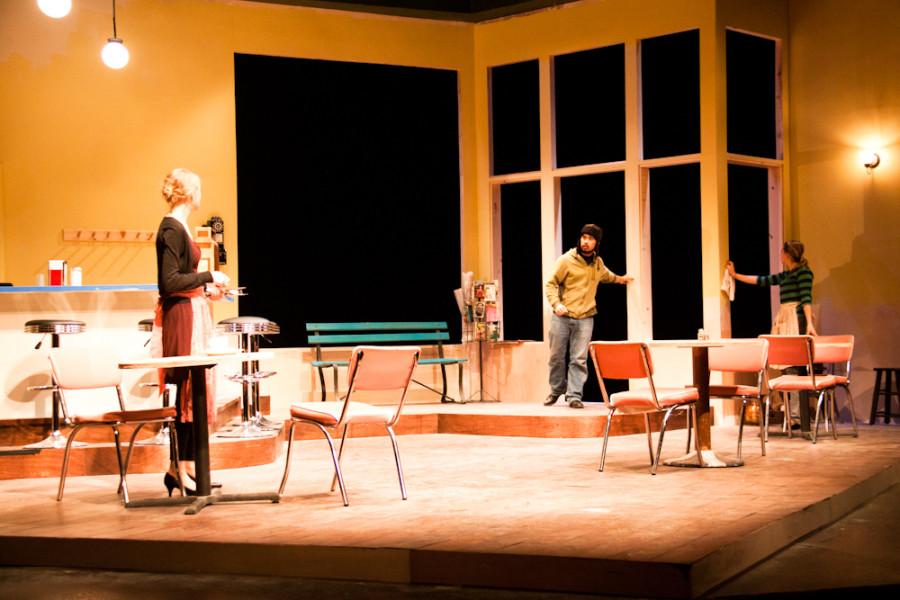 Consider this your Greyhound ticket to thoroughly enjoyable procrastination. From Thursday, Dec. 8, through Sunday, Dec. 11, Harper Joy Theatre presents the romantic comedy "Bus Stop" by William Inge on the Alexander Stage, directed by Visiting Instructor of Theatre Katie Pearl.
The Pioneer caught an early glimpse of the production at rehearsals. The first two acts, taking place on a brightly lit stage disguised as a simple diner, offered a romantic yet relatable feel to a modern audience.
"[It's about] love in different forms," said senior theatre major Caitlin Goldie. "It follows a group of characters who are snowed in overnight at a diner in a small town in the 1950s. Each of these characters is at a different point in their lives and each has different views on what love is to them."
Fellow cast member senior David Otten elaborated.
"As to me personally, the characters all display fears and thoughts about love and relationships that I have shared at one point or another," said Otten.
However, this is not your typical romantic comedy.
"Bus Stop at first glance appears to be a tame and quaint play taking place in a small town in the middle of Kansas with few dramatic plot details," said first-year Tori Davidson. "However, I think that's what makes this play appealing. It is a snapshot of real life. This play teaches its audience and its actors that our daily lives do not scream 'abstract' or 'revelational,' but the moments that have the potential to impact us the most can occur in a snow-blocked diner in the early hours of the morning with complete strangers."
Almost all cast members agreed that the most challenging aspect of the play was relating to their characters.
"I had to let go of my preconceived notions of the character," said Otten. "I had to tap into aspects of myself that I have never brought to the stage or to my personal life. Overall, I just have to play Dr. Lyman, and that's hard. It's the toughest role I've ever had."
"The feeling of [the play] is like a tenderly made, flawed valentine: eight wonderfully drawn characters each using the others to work their way through what love means," said director Katie Pearl.
So, if the stress of finals begins to take its toll on you, drop on by the Alexander Stage for some laughs, some gasps and maybe some tears.